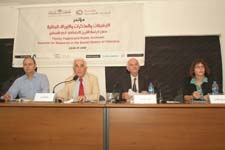 PARC Co-sponsors IJS Conference on Family Papers and Public Archives July 2008
For two days in July, 2008 more than 100 participants attended a conference entitled "Family Papers and Public Archives Conference: Sources for Research on the Social History of Palestine" that was organized by the Institute of Jerusalem Studies (IJS) and Birzeit University. The conference was partially sponsored and funded by PARC, the Palestine Investment Fund, and Heinrich Böll Foundation. PARC board member Beshara Doumani was the keynote speaker and presented a methodological paper on Palestinian family archives. Many PARC fellows and members attended this important conference. Various sessions included: Personal Papers as a Source for Historical Research, Jerusalem Court Records, Archives of the 1948 War, Photography and Visual Culture, and the British Mandate Seen through Family Papers. See the complete agenda.
At the end of the conference Salma Khalidi announced that she is donating her family papers (two hundred years of documents, correspondence and photographs) to IJS. Several participants made similar initial commitments. For instance, Ahmad Murwat, from the Nazareth Archives center, donated a copy of the diaries of the head of the Russian Seminary Emil Kozma from the end of the 19th century.
One important feature of the conference was the announcement of the launch of an IJS archives website. The site will have scans of original diaries, sections of published material from IJS, historical photographs in lower resolution, and other archival material. This website is expected to be a significant source for researchers in Palestine studies.
The conference received good media coverage from Al Jazeera Mubashir (Al Jazeera's live TV broadcasting), which broadcast the first day of the conference live to some 25 million viewers. Local media coverage included Maan and Palmedia. The IJS website address is http://www.jerusalemquarterly.org.
PARC is grateful for funding from the U.S. Department of Education to support this event.