Support excellence in scholarship on Palestine.
Make a difference in the lives of Palestinians by empowering scholars and enriching scholarship in and on Palestine.
Stay up to date on publications, research, and activities related to Palestine.
Network with a diverse array of scholars around the world who share your interest in Palestinian affairs.
Latest News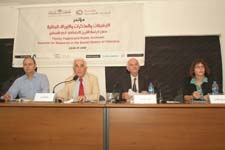 For two days in July, 2008 more than 100 participants attended a conference entitled "Family Papers and Public Archives Conference:…
Read more
PARC's 2022-2023 fellowship competitions